SINCE 1925, CORONA HAS BEEN ENCOURAGING BEER DRINKERS TO ENJOY THE BEACH, THE SURF AND SUNSETS. TO SHARE TIME WITH MATES IN A PLACE WHERE THE PACE IS SLOWER, THE VIBE MORE RELAXED, AND LIFE'S SIMPLE PLEASURES ALL THE MORE ENJOYABLE.
OUR PHILOSOPHY HAS BEEN EMBRACED AROUND THE WORLD IN OVER 180 COUNTRIES, INCLUDING HERE IN AUSTRALIA. OUR REFRESHING FLAVOUR, COMPLEMENTED WITH A LIME IN THE ICONIC CLEAR BOTTLE, IS BEST CONSUMED AS THE SUN SETS ON A DAY IN PARADISE.
Lime Ritual
---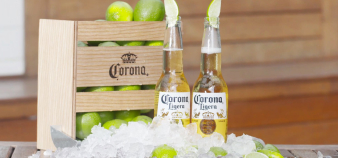 NO CORONA IS COMPLETE WITHOUT THE LIME. NATURALLY ADDING CHARACTER, FLAVOUR AND REFRESHMENT, THE LIME RITUAL IS AN INTEGRAL PART OF DELIVERING AN EXPERIENCE THAT IS TRULY UNIQUE TO CORONA.